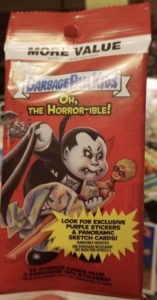 Much to the delight of GPK collectors around the country, some Target stores begin stocking retail packs of 2018 Series 2, Oh the Horror-ible today. Collectors found both retail Blasters and Fat packs in stores. Some collectors stated that Target's system would not allow them to purchase the packs until the official release date next Wednesday, 9/19. However, GPK sketch artist Shane Garvey was able to snag some. Thanks for Shane for pictures of the the packs.
With Gravity Feed boxes being cancelled this set, it will be interesting to see the full spectrum of odds for various retail packs. Based on early analysis, parallels and regular sketches are slightly easier to pull indicating a slightly smaller print run. However the special sketches such as Loaded sketches and Panasonic sketches have much tougher odds than the previous We Hate the 80's release. This indicates Topps bumped up the printing of Blasters and Fat Packs to make up for the cancellation of Gravity Feeds. The other news to come from early pack odds show Phlegm Yellow borders are listed on the odds for Blaster packs. Will they also appear in 24 pack retail boxes, (also marketed as Hobby boxes)?
I'll have my usual rundown of production numbers in the coming days once all pack odds are in. Regular retail pack odds will also be added to this post when available. For now here are the odds for Fat Packs and Blasters.
2018S2 GPK Oh the Horror-ible Blaster Pack/Box Odds
Phlegm 1:4
Fools Gold 1:44
Printing Plate 1:1317
Artist Autograph 1:104
Regular Sketch 1:247
Loaded Puzzle Sketch 1:108 (Blaster Boxes)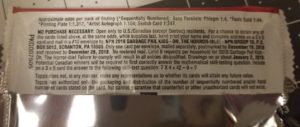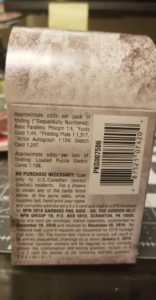 2018S2 GPK Oh the Horror-ible Fat Pack Retail Odds
Fools Gold 1:18
Printing Plate 1:525
Artist Autograph 1:42
Regular Sketch 1:99
Panoramic Sketch 1:712