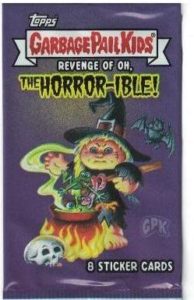 Despite the official release date being next Wednesday, cards have started surfacing online for the brand new 2019 Series 2 Garbage Pail Kids Revenge of Oh the Horror-ible. Thanks to cardgarys from ebay for pictures of the odds! As usual the odds appear to be all over the place, and without a lot of real world examples are hard to explain. The past coupe of sets Topps has overstated odds by double on many parallels and some other items, so keep that in mind. However, when talking to Gary based on his early case busting results, the hits are quite scarce. When compared to We Hate the 90's, plates, autos, and sketches are over twice as hard to pull according to the odds. According to the blaster box, Loaded sketches are now 1 in 207 boxes!!! Gary confirmed he pulled one Loaded sketch in his first 5 Value cases, which would be right on the new odds. While there is no way to confirm anything yet, production appears to be way up for this series, and hits will be much harder, at least in retail. We don't yet know what the odds look like on Collector packs. One oddity, Panoramic sketches have odds listed on both Fat packs and Value packs. Gary had not yet pulled one from Value packs, but did from a Fat pack, so the odds on the value packs may be a mis-print.
Finally, the Jago Studios advertised Mo Bile insert card is falling randomly in all retail pack types. The card is "as pictured" in the advertisments with no number on the card. It appears to be a one off insert card. Gary said he was getting about one per retail display box. I haven't see any pictures of the card on packs or boxes as of yet like Jago mentioned. However, the GPK The Game logo is on Jumbo packs and Value boxes.
I'll have my usual rundown of the production numbers in the coming days once all pack odds are in. In the meantime here are the odds for Retail Display, Value and Fat packs.
2019S2 GPK Revenge of Oh the Horror-ible Retail Display Odds
Blood Splatter Yellow 1:8
Blood Splatter Gold 1:145
Printing Plate 1:2,653
Artist Autograph 1:410
Trick or Treat 1:3
Regular Sketch 1:358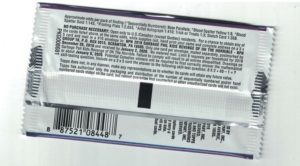 2019S2 GPK Revenge of Oh the Horror-ible Fat Pack Retail Odds
Blood Splatter Gold 1:49
Printing Plate 1:870
Artist Autograph 1:137
Regular Sketch 1:120
Panoramic Sketch 1:852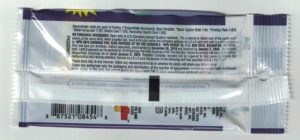 2019S2 GPK Revenge of Oh the Horror-ible Value Pack/Box Odds
Blood Splatter Gold 1:145
Printing Plate 1:2,615
Artist Autograph 1:409
Regular Sketch 1:358
Panoramic Sketch 1:852
Loaded Puzzle Sketch 1:207 (Blaster Boxes)