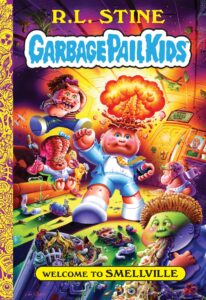 Entertainment Weekly reports this morning that author R.L. Stine has signed a 3 book deal to write a series of books based on the Garbage Pail Kids. Aimed at Middle Schoolers, the series will debut this fall with the first book, Welcome to Smellville and bile published by Amulet Books. R.L. Stine is known for his hugely popular Goosebumps series of books. GPK artist Joe Simko has drawn the cover art, while former GPK artist and editor Jeff Zapata will illustrate the inside. The first book is available for pre-order on Amazon now for 14.99. The description for the book reads:
Goosebumps creator R. L. Stine teams up with the pop-culture phenomenon Garbage Pail Kids for a first-ever GPK illustrated middle-grade series
Welcome to the town of Smellville, where nine kids all live in a big tumbledown house and have as much fun as they possibly can. People may think that they're gross and weird and strange, but they're not bad kids—they just don't know any better. In this hilarious new series from bestselling author R. L. Stine, the Garbage Pail Kids—from Adam Bomb to Brainy Janie—get into mischief at their middle school, all while battling bullies and their archenemies, Penny and Parker Perfect. These all-new illustrated stories are sure to amuse, entertain, and blow away readers of all ages. Bonus: includes four exclusive Garbage Pail Kids stickers!
Each book will also come with 4 exclusive GPK cards. This is a huge deal for the Garbage Pail Kids brand and Topps. This is how the brand can hit the mainstream big. According to Amazon the book will be available Oct. 6, 2020.