Every year October is a huge month for Garbage Pail Kids. Not only is there a new retail set, but with New York Comic Con, and the Philly Non-Sports shows, collectors are busy all month! Now that NYCC is over its time to focus on next week's Philly Non-Sports Card Show. Collectors from around the world will once again descend on the Merchants Square Mall in Allentown, PA for the bi-annual card show. Now this show isn't like the hustle and bustle of  NYCC show. This show is a more intimate setting, that allows collectors time to chat with their favorite artists and collectors alike. Plus the entire show is non-sports cards. Like usual there will be a heavy focus on GPK.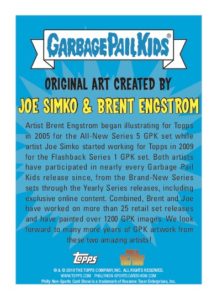 Two of the current GPK artists Brent Engstrom and Joe Simko will be guests at the show. You can have a chance to meet your favorite artists, buy some art, and get some autographs. The duo have painted an exclusive card for the show. Collectors attending the Meet & Greet on Saturday night will have the option to purchase the two Topps licensed cards for $20. The cost of the cards helps to offset the cost for the artists to attend the show. As a special bonus attendees to the Meet & Greet will receive a metal version of the card for free! There will be plenty of prizes at the Meet & Greet. GPK collectors could win one of the Chalkline GPK jackets.
GPK collectors will also enjoy a Saturday evening auction after the show, which many rare items. Roxanne Toser will also have a number of items from Jay Lynch's personal collection for sale at the show. She also found a number of old 1980's GPKNews merchandise items that will only be offered at the show.
While not GPK, collectors can also pick up two promo cards for two new sets that will be hitting Kickstarter soon. Both Mars Attacks and Weird Wheels are making a comeback, and there will be promo cards available at the show. There will be a number of other promos available as well.
The show takes place at the Merchants Square Mall in Allentown, PA on Saturday October 19th from 10:00-5:00 and Sunday October 20th from 10:00 – 3:00. Tickets are $8 per day, or a weekend pass for $14. All collectors i the area should make it a point to stop by the show next weekend!