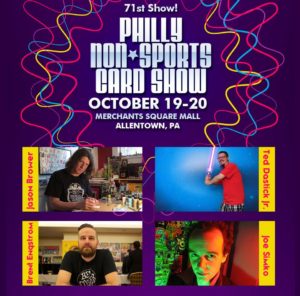 The next Philly Non-Sports Card Show is just over two months away. The 71st version of the country's largest non-sports show is set to take place Oct. 19-20. Once again, the Toser's have a lot of things planned for the show, with many interesting Garbage Pail Kids offerings. In addition, long time GPK artists Joe Simko and Brent Engstrom will be in attendance at the show. GPK collectors will also have the chance to purchase a number of rare items.
Joe Simko and Brent Engstrom will be collaborating on an exclusive Topps licensed card. The cards titled, Paint Job Joe(1a) and Brushwork Brent(1b) will be available at the show for $20. Collectors signing up for the Meet and Greet, Saturday night of the show, will have first crack at purchasing the cards. If you are interested in attending the Meet & Greet with Simko and Engstrom you should e-mail Roxanne Toser to reserve your spot. Only 100 copies of the cards will be available. The cost of the meet and greet is $22 and will be held 7:00 PM Saturday night at the Hilton Garden Inn after the show's auction. By the way GPK collectors, the Saturday auction will feature a number of high end PSA graded GPK cards.
Collectors attending the show will have a chance to purchase a number of items from Jay Lynch's personal collection/archives. After Jay's passing his collection was donated to the Billy Ireland Museum in Columbus, OH. After organizing the collection, the museum wanted to sell off any duplicate items. Roxanne Toser was able to purchase many of these items. She will have many of these items, including a number of GPK and Wacky Packages items available at her booth during the show. About the items Roxanne told GPKNews, "We visited the Billy Ireland Museum in Columbus, OH where Jay Lynch's collection was donated. It is 2-1/2 years since Jay passed and the museum personnel having been organizing the collection. The museum is fantastic and has so much material from many famous comic artists. Jay's collection was quite unusual because besides the mammoth amount of correspondence and artwork, there was cards and card-related material. This doesn't happen very often but the museum found it necessary to sell any duplicate material and gave me the opportunity to purchase it. The GPK and Wacky items are mostly from the 2000s but everything is in pristine condition. I am thrilled to be offering these items and feel collectors will be thrilled to purchase these items which were owned by Jay."
Collectors who are after GPK merchandise from the 1980's will also be in for a treat. While searching through a closet Roxanne hasn't looked in for years, she came across a number of highly sought after merchandise items. Also at Roxanne's booth will be, Pencil Billboards, Pencil Cases (one box available), Stick-On Pictures, Stick-Ons, Sunglasses, Stick-On Name Tags, Pop-Ups, Memo Books, Theme Books, Jewelry, Zipper Pulls, Hi Bounce Balls, Costumes, and Pencils! Some of these items, especially the pencils you don't see come up for sale very often. Roxanne said the items will go on sale for the first time at the show and there will be a lot of each item available.
There will be more announced as the show gets closer. GPK collectors should start planning their trip now to the next Philly Non-Sports show. The show will take place at the Merchants Square Mall in Allentown, PA on Oct. 19-20, 2019.