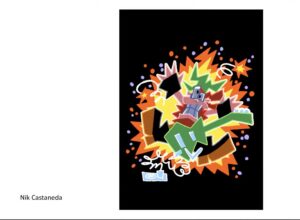 More news has trickled out over the last few days for the upcoming Garbage Pail Kids x WAX OS 2 digital set. Vice President of Topps Digital, Tobin Lent appeared on a number of video podcasts, including one with GPKNews, to reveal many details around the set. Topps is making an attempt to lure the longtime GPK collector who has yet to give digital cards a try. They have inserted a number of various parallels and inserts into the set, as well as a number of surprises they haven't shared yet. The base set consists of the original 84 card OS 2 set. The Returning Cards, that first appeared in Chrome OS 2, will be an Uncommon insert set to collect, as well as the "C" name variations that also appeared in Chrome OS 2. There are various parallel sets available to collect, Gum, Raw, Slime, Gum, VHS, and Sketch card. In addition to that, there are a number of special items under the Collector's Edition label.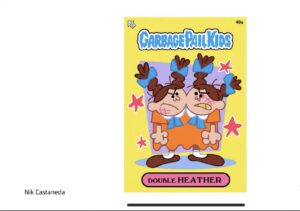 The Collector Edition cards will consist of various special relics, animated cards, and new art. Perhaps the biggest news for collectors was revealed on The Nifty Show podcast. Tobin shared there will be brand new art inserted into the set, all from up and coming new artists who have all previously worked as sketch artists for Topps. Tobin specifically showed off original art variations from "GPK" Nik Castaneda, Chenduz, and Brent Scotchmer. The original art cards are a takeoff of the Project 2020 baseball card set Topps is selling as online physical cards. Some of the original art cards are even animated like the Sketch parallels for the base set, and will feature the artist's digital autograph on the card back. There are also a number of special animated characters created by artist Justin Gammon. Topps began using Justin for work after seeing his fantastic creations earlier this year that he shared online.
Tobin also shared details around the launch and makeup of the packs. There will be three packs types offered, $10 Standard Pack (8 cards), $25 Mega Pack (25 cards), and $50 Ultimate Pack (55 cards). There will be some purchase limits in place, so collectors can not purchase unlimited packs. Each pack type will contain an exclusive parallel card. Some cards types, like the Collector Edition will be available in all pack types. Tobin said Topps will not be revealing pack or card inventory numbers prior to launch this time around. Like with the OS 1 set, the set will be based off the Simple Assets standard, and packs can only be purchased with a credit card.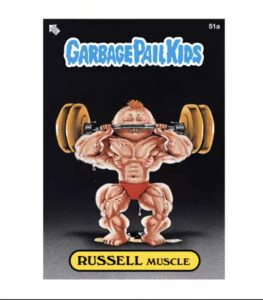 Many collectors have asked about the status of the Schizo Fran character, who appeared in the first two printings of OS 2, but was replaced for the 3rd printing with Fran Fran, and hasn't been used since by Topps. When asked about Schizo being in the set, Tobin strong hinted that, "In an effort to delight collectors, we've tucked some surprises into the set." Tobin also told Nifty Show that he tried really hard to get John Pound to do digital autographs for the set, but was unable to talk him out of his retirement. Packs will go on sale at 12:00 PM EST this Wed. 9/30/20 on the toppsgpk.io website. Packs will sett out quickly, so collectors should have their account created and ready to purchase.