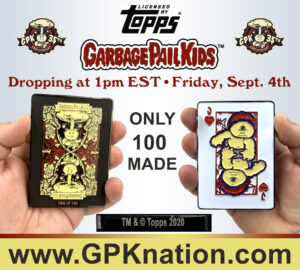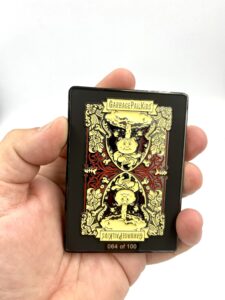 Adam Goldberg and Louis Gregory are doing things very differently in the world of licensed GPK collectibles. A few weeks back Leo Challenge Coins begin offering weekly officially licensed GPK coins on their website GPKNation.com. They sold out quickly, within just a few mins. Gold plated versions soon followed, also selling out instantly.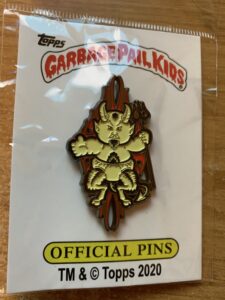 They didn't stop with just coins. Over the last couple of weeks collectors who are members of the GPN Nation Facebook group have been given exclusive access to pop up sales of officially licensed pins, keychains, and emblems. So far four pins; Sy Clops, Luke Warm, Mick Dagger, and Bony Jonie (/50), an Adam Bomb keychain (/25), and an Adam Bomb emblem set of 9 have been released. Collectors aren't given very much notice of the sales. Sometimes just mins, other times a couple of hours. In all cases every item has sold out instantly.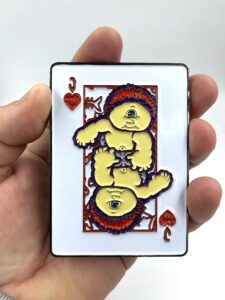 The next item being offered has been given a few days notice. Louis begin teasing the newest coin to be offered this coming Friday. While no time has been announced, previous Friday sales have taken place at 1:00 PM EST. The large rectangular coin features Sy Clops on one side, with Adam Bomb on the other. The coin will be limited to /100. No other details, including pricing, have been revealed.
Collectors who want to add these limited coins, pins, and collectibles to their collections need to join the GPK Nation Facebook group, and keep your eyes peeled! You never know when the next item will pop up for sale.