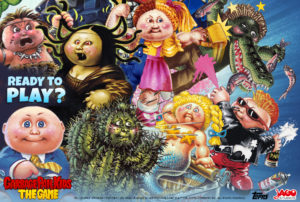 Jago Studios didn't waste any time is meeting their Halloween promise to release a new trailer for their upcoming mobile game, GPK The Game. Early Wed. morning people who applied to be a game tester received an e-mail announcing the winners of the contest. Additionally, a new 30 second expanded trailer appears on gpkthegame.com as well as their Youtube channel.
The trailer is broken down into three main sections that explain the main facets of the game, all while keeping a Garbage Pail Kids theme. The trailer starts off much like the previous shorter 5 second version. First they promise you can "Collect your favorite cards". What is shown next is many of the character screens. Adam Bomb, Tee Tee Stevie, Half Nelson, and Brainy Janie are all shown with various abilities and their junk. Next up we get what appears to be where you can see your card collection. Many more characters can be seen here.
From there the trailer moves into the section where you can, "Battle till you barf". Screens are shown with some of the battle scenes and the cards attacking, untimely resulting in victory. Finally, the game shows you can, "Earn tons of junk". In true GPK form it appears items and power-ups are labeled as junk. What else would a good GPK battler need?
Jago Studios announced there were over 1100 entries for their game tester contest. In a bit of a surprise, they announced that due to the overwhelming response they expanded the winners list to 10. The following people were announced as winners; Melanie R. in Lexington, IN; Michael M. in Colleyville, TX; Joseph T. in Johnson City, TN; Travis T. in Murrieta, CA; Jason H. in Mankato, MN; Randy M. in Aurora, CO; RJ H. in Nevada County, CA; David H. in Folsom, CA; Jennifer H. in Cincinnati, OH; and Jono S. in London. Jago also promises more contests to come in the months ahead.
GPK the Game is set to launch in early 2019 and will be available in both the Apple App Store and Android Google Play.