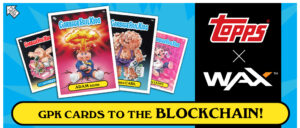 Back in early March, Topps and WAX announced a partnership to bring Topps licensed digital cards to the Blockchain for the first time. The companies decided to start with Garbage Pail Kids to help celebrate the 35th anniversary of the brand. With the release just a few weeks away, GPKNews was able to do an email interview with Tobin Lent, who is VP & General Manager of Topps Digital. Tobin has been with Topps the last year and a half, and oversees all of Topps digital properties. Tobin was able to share many details of the upcoming launch, including pack options and pricing. Tobin also talks about the various cards types collectors will be able to find. Other topics include what made WAX attractive to Topps, what collectors can expect in this digital marketplace, and what Tobin would say to classic collectors who might balk at digital cards. Collectors interested in learning more about the partnership, including the technology behind the app should visit their landing page at topps.wax.io.
GPKNews – Thanks for the interview Tobin! Topps recently announced a partnership with WAX for new digital cards. What made WAX the company Topps wanted to work with for this venture?
Tobin Lent – We liked Wax for two main reasons. First, they've had years of experience operating a robust platform for buying, selling and trading digital items. Second, the team at Wax really cares about the user experience. It's not about the blockchain technology. They are focused on creating a platform for fans to find and collect the things they love, and connect with each other. That's also our mission in the digital group at Topps.
GPKNews – Topps has several properties, MLB, WWE, Star Wars, etc. Why the decision to start with Garbage Pail Kids?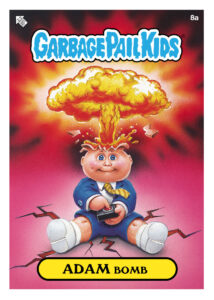 TL – We wanted to start with Garbage Pail Kids because it is a pop culture icon. GPK is a beloved brand that has a long history and a deep sense of nostalgia. This year also marks the 35th anniversary of GPK and there is a full year of integrated marketing programs to celebrate the brand's anniversary. It seemed the timing was good to bring the iconic GPK brand to a promising digital technology such as blockchain.
GPKNews – Do you guys have plans to expand into some of the other properties Topps has?
TL – We believe blockchain has tremendous potential. We'll continue to explore and expand our efforts. We are 100% committed to innovation and evolving the way fans collect, trade and play, and we plan to work closely with our partners in this space.
GPKNews – How will this be different from some of the other current digital apps that Topps offers like Topps Bunt and WWE Slam?
TL – Our portfolio of mobile apps has been very successful. We continue to invest in and build that business aggressively. We see blockchain as more of an enabler to that business, allowing us to add more features and capabilities for our users in the long-term.
GPKNews – Right now these will only be digital cards? No physical versions are currently planned, right?
TL – For this particular initiative, there are digital cards only.
GPKNews – The artwork on the cards is a giant part of the hobby. What are the plans for what is being offered? Are the cards just digital copies of past cards? Reimagined characters based off of old characters? Completely new characters? If new artwork is being created, who are the artists creating the cards? Is the original artwork being done digitally? Who is making the decisions on releases, Topps or WAX?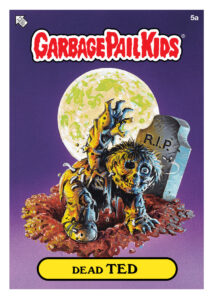 TL – This set will be based on the original GPK Series 1 cards, but with a digital spin. We wanted to create more than just digital representations of physical cards. We wanted to harness the unique capabilities of digital and marry that to spirit of the Series 1 cards and the personality of GPK. We've created a base version, and then paired that with rare variants and chase cards featuring motion and special effects that bring the collectibles to life in a new way. We are going to be offering some very special, never-seen-before collectibles with low card counts that we think will appeal to collectors and fans of GPK.
GPKNews – Are you able to share an example of how the initial sales will take place? Will there be virtual packs to open? Individual cards listed for sale? I assume each card/pack will be limited somehow? How are cards initially allocated, first come first serve? Auction? Will there be limits on how many an individual can buy?
TL – We will offer two pack options to purchase, one at $4.99 and the other at $24.99 which offers more cards and better odds at rare cards than the $4.99 pack.
GPKNews – How often will new cards/packs be released? Daily? Weekly? Monthly? Are there sets to collect? Different versions (parallels) of the same cards?
TL – The two packs will be available at once. The packs will include the original Series 1 set with 41 cards of both A and B names each, with a base version and 2 premium variants at lower counts. The packs will also include a chance at some rare and very rare chase cards that should be a lot of fun for collectors to go after and collect.
GPKNews – Not only will the app facilitate the initial sale from Topps, but will it also serve as the secondary market? Once people own these digital cards, will there be a marketplace for potential buyers to browse and purchase cards? Will trading cards be a function of the app? Will there be a private message system for collectors to negotiate? Public message board for offers? Or rather will that communication need to happen off the app?
TL – One of the most appealing features of the Wax platform is that after the initial sale, collectors are able to freely trade or buy & sell from each other. It should be easy and seamless for collectors to post collectibles for sale or trade, as well as find collectibles and communicate with each other. Wax offers a safe, easy and trusted platform to support secondary trading. We are eager to see how much activity there will be in the secondary market.
GPKNews – I understand there isn't an official launch date yet. I've seen WAX mention Spring 2020. Is that still the plan? Has a launch window been determined? How does the Coronavirus pandemic affect the launch? Are you concerned that the events of the last few weeks in the world might hurt the digital collectibles industry?
TL – We will launch within the next few weeks. Fans are still looking for a fun diversion, probably now more than ever. We hope that we can bring a little joy to GPK fans all over the world.
GPKNews – What would you say to GPK collectors who, for the last 35 years, are accustomed to busting physical packs, holding the cards in their hand, and flipping through binders of their old cards? How do you get that collector to try out digital cards?
TL – I think physical cards and digital collectibles each bring their own unique joys to collectors. Nothing replaces the feeling of opening physical packs and flipping through cards. Conversely, digital brings its own unique characteristics in terms of special collectibles that are impossible to create in the physical world, as well as the ability to instantly connect and trade with other GPK fans from all over the planet.
GPKNews – Finally, what's your favorite Garbage Pail Kid? Why?
TL – Junky Jeff. He always looks happy and could survive anywhere.