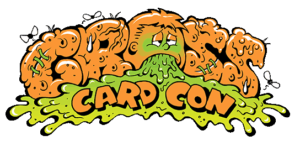 This year's Las Vegas Gross Card Con event is shaping up to be the biggest event yet for Garbage Pail Kids collectors. This will be the 4th GCC, and 3rd to be held in Vegas. As usual, this year's event will be part of the larger Vegas ToyCon. The ToyCon is moving venues once again. This year's event will be held at the WestGate Convention Center at the WestGate Hotel & Casino from March 1-3. The new venue should allow for less of an obstacle course experience compared to last year's event. The event is considered by collectors the yearly "national" show for GPK collectors. There will be the largest group ever of GPK artists attending the show. If history is any indication there will be also be a few hundred GPK collectors from around the world attending the show. This is your chance to put names to faces of the artists and collectors you talk with on a daily basis online. If you've never been, here's a little of what you can expect.
Artists
As of press time there are 17 former, current, and sketch artists set to attend the show. This will be the largest group of GPK artists in one place to date. These twelve artists that attended last year's Vegas GCC are set to come back; Tom Bunk, Brent Engstrom, Joe Simko, David Gross, Laryon DeJarnette, Smokin' Joe McWilliams, Mark Pingitore, Jeff Zapata, Michael Barnard, Vincenzo D'Ippolito, Chad Scheres, and Jon Gregory. In addition five sketch artists will also be in attendance including Shane Garvey, Barry Nygma, Shawn Cruz, David Acevedo, and Jay O'Leary. The artists will have final artwork, official and personal sketches, prints, personal card projects, and much more available for sale at the show. They are also all very approachable and willing to chat with GPK fans during the show.
Events
Every GCC has a few special events for collectors. Once again there will be an open seminar with some of the artists doing a question and answer session during the show. Want to eat with your favorite artists? VIP ticket holders will be able to have breakfast with the artists Saturday morning. While Sunday's breakfast with the artists is open to everyone. A Saturday evening social event will also be held at the International Bar inside the WestGate Casino. This is a great relaxed time to spend with artists and collectors.
Show Exclusive Card Sets
As always there will once again be some show exclusive cards available. Many of the artists attending are busy working on the artwork that will be featured in this sets. The sets are put together and sold by Clint Coleman of GPK & Wacky Warehouse. They will be available at his booth during the show. Expect some surprises for some collectors purchasing the sets. Some artists have already started showing off their cards for the sets!
Tickets
Collectors have a few options when it comes to tickets. Those wanting an all in one pass to everything the show offers might be interested in the Super VIP pass. For $1000 you get 3 nights hotel at the Westgate, early admission to the show, and lots of show exclusive swag. Part of the package includes a GPK themed car, and an autographed copy of the 30 Years of Garbage documentary. Gold and Silver VIP passes are also available for a fraction of the cost. Those passes don't include hotel or most of the swag, but you still get early admission to the show and other perks. There are also individual and weekend passes available. Go to the Vegas ToyCon website to check out and purchase various ticket options. Alternatively, you should consider checking out Groupon where there are already deals up on individual and weekend passes.