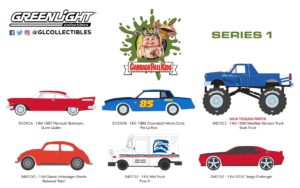 After weeks of teasers from online retailers, Greenlight Collectibles today finally officially announced their partnership with Topps. Greenlight Collectibles Garbage Pail Kids Series 1 will be a 6 car set of 1:64 GPK themed die cast vehicles. In the release from the company they describe the car set, "GreenLight is bringing back some of the most famous GPK stickers with vehicle tie-ins later in 2019, with a 6-vehicle set designed to draw out the automotive relationship between GPK and their fans!"
As part of the release, Greenlight released the flat artwork for the cars. Some of the pictures show bits of artwork making the cars themed GPK. A spokesperson for the company tells GPKNews that there will be additional artwork on the license plates, bumpers, hoods, etc. The flat artwork released doesn't yet show all the details. Expect final pictures of the cars as the release nears.
The company confirmed that the packaging will feature Junky Jeff as the logo. Additionally, each package will come with one GPK sticker. Five cars will feature past GPK characters with vehicle tie-ins, while the 2012 Dodge Challenger will come with a brand new sticker with artwork painted by GPK artist Joe Simko.
Finally, randomly inserted into cases of the product will be the "green machines". These are the chase cars for the company. These are cars that feature green traits on the cars, like green bodies, green chassis, green tires, etc. The company has not yet revealed the rarity of the green machine chase cars.
The cars are already available to pre-order from various online retailers. Greenlight Collectibles Garbage Pail Kids Series 1 die-cast car set is set to be released this August. Here is the checklist of cars along with their "GPK" name.
– 54010-A: 1:64 Garbage Pail Kids Series 1 – Quinn Quake – 1957 Plymouth Belvedere
– 54010-B: 1:64 Garbage Pail Kids Series 1 – Pile Up Kyle – 1983 Chevrolet Monte Carlo
– 54010-C: 1:64 Garbage Pail Kids Series 1 – Buck Truck – 1995 Modified Monster Truck
– 54010-D: 1:64 Garbage Pail Kids Series 1 – Redwood Ralph – Classic Volkswagen Beetle
– 54010-E: 1:64 Garbage Pail Kids Series 1 – Post Al – Mail Truck
– 54010-F: 1:64 Garbage Pail Kids Series 1 – Clutch Clint – 2012 Dodge Challenger