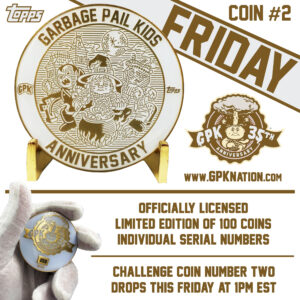 Yesterday the first Garbage Pail Kids Challenge Coin sold out in just 4 mins. Today Adam Goldberg announced coin #2 will be officially launching this Friday at 1:00 PM EST. The second coin, produced by Louis Gregory, features Nasty Nick, Weird Wendy, and Wrappin Ruth. The GPK 35th anniversary logo is on the back of the coin. The coins are officially licensed by Topps. This is the second coin in a planned three coin series. Just as the first coin, this one will be limited to 100 copies. Coins can be purchased at GPKNation.com. Adam has mentioned there is an additional series of coins and pins planned in the future. As part of his announcement, Adam said proceeds will go towards a GPK TV series he co wrote with Joe Simko.
Here is the announcement as made by Adam Goldberg on various GPK Facebook groups:
Aside from being an obsessive GPK fan, I'm also a long time challenge coin collector. I am thrilled that Topps was open to the idea of merging my two favorite hobbies!

I was not expecting the 1st coin to sell out so fast. Moving forward, new coins will be released on Fridays at 1pm EST. I am also trying to put a limit on the number of coins bought (TBD).

So spread the word! GPK Coin #2 drops THIS FRIDAY 7/24 at 1PM EST. Officially licensed by Topps, produced by Louis Gregory, limited edition, only 100 made. If these are well received, I'm open to doing future runs of 200 to 500 with the OS characters. Although some of you insist it should be 1000!?!?

Coins will ship within 24 hours. I've been a frustrated fan waiting weeks to get cards so I insanely paid for extra help so everyone could get an instant turnaround.

All profits go towards producing a bad-ass GPK film series I wrote with artist Joe Simko – which I dream can become a new TV show! Stay safe and GPK 4 LIFE!