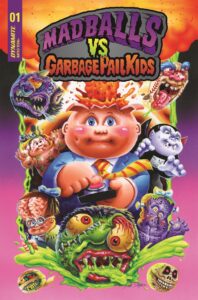 Dynamite Comics today announced a new comic book series based on the Garbage Pail Kids vs. Madballs crossover. The series will tell the story how these two franchises battle it out. The comic will be written by veteran author Sholly Fisch, and illustrated by longtime GPK sketch artist Jason Crosby. There will be collectible variant covers created by Crosby, GPK artist Joe Simko, and Madballs artist James Gorman. Issue #1 is scheduled to launch July 2022. Collectors will want to preorder through their favorite comic book store. Here is the press release from Dynamite.
The Madballs™ & Garbage Pail Kids Clash in
All-Out War Historic Multimedia Crossover!

April 21, Mt. Laurel, NJ: Dynamite announces a historic summer crossover of epic proportions, as two beloved brands smash together in all their gross-out glory in Madballs™ vs. Garbage Pail Kids!

The two legendary franchises have been captivating audiences young and old for over three decades, co-ruling a corner of counterculture with their pun-heavy names, subversive humor, and inventive art and design. Now, as part of an exciting merchandising blitz, Dynamite is proud to publish an ambitious comic book series showing just how these misfits might get along – or destroy everything around them!

The story is written by Sholly Fisch, experienced across a deep bibliography with franchises like Superman, Star Wars, Scooby-Doo, Mighty Mouse, and Looney Tunes. His award-nominated work has always balanced appealing to all ages and seamlessly adapting franchises with passionate fanbases. Though, he holds his tongue on spoiling which side might win in this battle.

"Let's just say that, no matter which side you're on, you'll find stuff to make you laugh. And, if you're not careful, you may get splattered with slime or toxic waste, too," said writer Sholly Fisch.

Fisch is joined by artist, Jason Crosby, known for drawing the Garbage Pail Kids already for Topps' latest trading card and sketch card sets. Now, he's dove headfirst into research to equally hone his Madballs.

"I try to have my work full of energy, movement, and splattered goop, so honestly, drawing these two franchises is right up my alley," said artist Jason Crosby. "My work isn't subtle, and I hope it explodes off the page."

In addition to Jason's action and gross-packed artwork in the story, the comic series will feature collectible variant covers by him and others. A project like this would be incomplete without the contributions of legendary GPK artist, Joe Simko, who contributes both an epic main cover and a trading card inspired one. Alongside collaborator, James Groman, Simko also crafted a mind-bursting wraparound cover!

Garbage Pail Kids kicked off its reign of irreverence in 1985 when Topps launched the first of many trading card series featuring their trademark hilariously revolting characters – all with clever names to match. The grossest kids you know have since translated to animation and a continuing full slate of globally-licensed consumer products.

"The Garbage Pail Kids and Madballs share much of the same 'twisted' DNA; an irreverent 80's sensibility, outrageous artwork and loyal fan bases that remain passionate to this day." says Ira Friedman, who oversees GPK licensing at Topps. "It comes as no surprise that the anticipation and excitement for this comics crossover is off the charts."