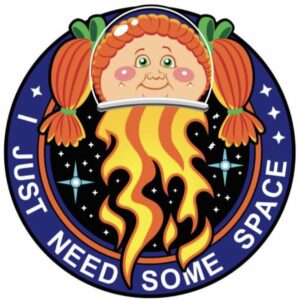 For maybe the first time ever, Garbage Pail Kids collectors will not be able find packs of a major GPK release in big box retailers. This past Monday, Topps released the Hobby Sell Sheet for 2023 Series 2 GPK InterGoolatic Mayhem. Generally, distributors will receive the Retail Sell Sheet the same day or shortly thereafter. That didn't happen, instead distributors were contacting Topps to find out where the info was. GPKNews has confirmed with Topps that there will be no Value Boxes (Blasters) or Retail Display boxes for this series. The reason why was not completely clear. Some distributors were told by their Topps' sales rep, that retail was not being produced due to a production issue. GPKNews was not given an official reason from Topps for no retail product.
So what will be available, and where will collectors find it? Both Collector and Hobby boxes are being produced, and will be the only two SKUs offered. It's not clear if Topps will label the Hobby boxes with the "H", or if the box will continue to be the Retail Display box, this time only sold as Hobby. Those boxes will continue to be available everywhere they usually are. Brick & Morter Hobby shops, along with large online card retailers and resellers should have product available either for pre-order or after release. This release isn't the first product Topps has not offered retail boxes on this year. Certain baseball card brands have suffered the same fate. It's unknown if Topps will offer a pre-order window on their website for the series as they have with a handful of baseball releases. Collectors can however expect boxes to be available at launch on Topps.com.
What does this mean for the inserts, parallels, and print runs? All the insert sets that were painted and planned for the set are being produced and will be inserted into packs. 3D cards, Patch cards, Kosmic Krashers, and Wacky Packages are all Collector only inserts. It's not clear if Space Farce and Time Warp insert sets will appear in just Hobby or both box types. Collectors who like the yellow parallel cards will be out of luck, as those won't be printed since there are no Blasters. Green and Blue parallels will be exclusive to Hobby boxes, Black and Red exclusive to Collector boxes, and Gray, Gold, Plates, and Autos in both box types. Sketches are changing up a bit. Loaded Puzzle sketches are moving from Blasters to Hobby boxes and will be exclusive to those along with the regular size sketch. Shaped and Triptych sketches remain exclusive to Collector boxes. Panoramic sketches will be inserted into both box types. Usually Blasters make up around 50% or more of the total print run. It's unknown how the elimination of retail boxes will affect the print run. One distributor said he was told there would be plenty product available.
Not having product available at Targets & Walmarts is not good news for the brand. The casual collector will not come across product to continue their collection. It also makes it that much harder to get new collectors into the hobby. The big question will be, was this due to production issues and will we see the return of retail product in 2024? Or will GPKs be left to just current collectors who are familiar with where to find hobby product? It won't be long until we find out as there is a retail set being planned for a Q1 2024 release.