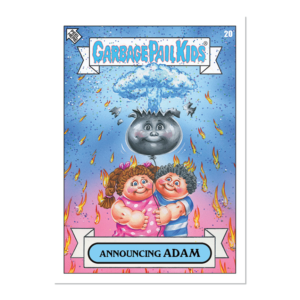 What better to go with you Christmas evening than some print runs? Sometime over the last couple of days, Topps finally posted the final print run numbers for Garbage Pail Kids 2019 Was the Worst cards #17-#20. After a couple of days with lower numbers, the final four cards rebounded with card #20 doing really well. The results of the last four are:
#17 Wrinkled Rita 543

#18 Skip Trip 530

#19 Lost Lunch Landy 587

#20 Announcing Adam 802
#17-#19 results bounced back to those of many of the cards from the set, solidly in the mid-500's. While card #20 doing just over 800 sold made it the second best selling card of the set. Topps' first online daily GPK set in years proved to be very successful. Topps will surely revisit daily sets in 2020 now, the question is will they burn out collectors by going overboard?