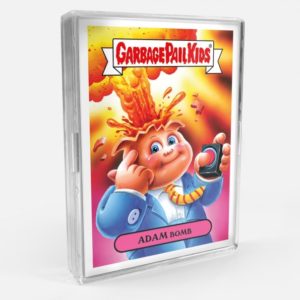 After a long dry spell, over two months, without online GPK sets, Topps is back. Today Topps launched On Demand Set #9 Garbage Pail Kids Memes. After the change in Brand Managers over GPK earlier this summer, Topps has been silent with online sets. They are back today, but in a different form. The set is being offered under the On Demand section of their online store. This is the second GPK themed set to be featured as an On Demand set, after last year's GPK Classic set. Despite being just one week after the launch of the latest retail GPK set, Oh the Horror-ible, Topps is going after collectors wallets in a big way.
The 20 card set features 10 pieces of new artwork completed by Brent Engstrom, David Gross, Joe Simko, Smokin Joe McWilliams, and Neil Camera. Each artist completed two cards for the set, and each card comes in a/b name versions. The cards feature OS 1 characters in parodies of popular internet memes. Unlike the typical online set, the configuration is quite different. For the first time collectors will get 1 "c" name card in each set. The "c" name is the third name for each piece of artwork. Each set also comes with 1 pink border parallel, and 3 border green parallels. In addition each artist completed 50 sketches, all of OS 1 characters, for the set. Each set comes with a 1:2 chance to pull a sketch card. The sketches were done on the same card stock used for the 2018S2 GPK Oh the Horror-ible retail set. This will make it tough for collectors to distinguish the difference between the sketches of Smokin Joe and Neil Camera who also completed sketches for the retail set. David Gross did not complete his regular sketches for Oh the Horror-ible, so any regular sized Gross sketch came from the Meme set. Engstrom and Simko did not complete sketches for Oh the Horror-ible.
The set is available for $40.00. Free shipping in the US is being offered via the SmartPost option, while international shipping is $10. The set is available on topps.com for 7 days. Topps will reveal the print run at the end of the sale. Here is a checklist of the set, and a couple of pictures of the cards.
A. Names
Nasty Nick
Adam Bomb
Furry Fran
Weird Wendy
Swell Mel
New Wave Dave
Kim Kong
Wrinkly Randy
Wrappin Ruth
Slimy Sam
B. Names
Evil Eddie
Blasted Billy
Hairy Mary
Haggy Maggie
Dressy Jesse
Graffiti Petey
Anna Banana
Rockin Robert
Tommy Tomb
Lizard Liz
C. Names
Season Al
Mind Blown Mike
Ancient Allen
Disaster Pearl
Skeptical Mel
Success Less
Grumpy Kat
Hard to Seymour
Dee-Sintegrate
Sinister Same