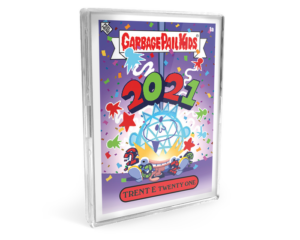 Topps surprised collectors this morning with the launch of two new GPK products. First up is Garbage Pail Kids Gross Greetings. This is a 10 card set, 5 new pieces with a/b versions. The set is holiday themes and is completely done by artist GPK Nik. This is the first time Nik has done final artwork for printed cards. The set can be purchased for $19.99 or in a lot of 10 for $179.99. Shipping is free when choosing the SmartPost option. The set is available for 7 days on Topps.com. Topps will reveal the print run at the end of the sale. Here is the checklist and pictures of the cards.
•1A Trent E Twenty One
•1B Champagne Shane
•2A Decorate Eddy
•2B Electric Ike
•3A Happy Annika
• 3B Latke Larry
• 4A Cyber Simon
•4B Bidding Ben
•5A Leftover Lisa
•5B May Flower
That's not all. Topps also launched today the 2020 Garbage Pail Kids Series 1 Wrapper Adult Facemask. You can wear you love of GPK while keeping Covid away! The mask can be purchased for $15.00. There isn't a time limit on purchasing the masks.