Update: After being on sale for a little over 30 mins, the club membership now shows as sold out. That went fast!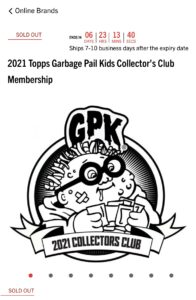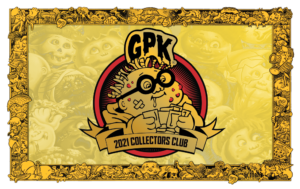 The Garbage Pail Kids brand made another giant leap forward with Topps push into an exclusive club. Today, Topps launched the 2021 Garbage Pail Kids Collector's Club. The club comes with an initial package of membership letter, club card, poster, and 4 card set of "charter members". The cards are of Club President Nat Nerd, Vice President Joe Blow, Treasurer Cranky Frankie, and Administrative Assistant Brainy Janie. Collectors will then recurve four 20 card sets through the year, each coming with a bonus gift that shows TDB. The sets will arrive in March, June, September, and December. Each set will be themed around one of the "charter members". The listing says memberships are limited to 3 per household. Collectors are able to purchase the membership on Topps website for $200. The cost of the membership covers one year. The membership is available on Topps.com for 7 days. However, it does says supplies are limited, so it might sell out. It's not known if Topps will reveal the membership numbers.
The club details defer slightly from what appeared briefly last night on Topps UK website. There is no longer mention of a pin or binder as the bonus gifts are all TBD. While this club is similar to the 582 Montgomery Club, there is no mention of members getting first access to packed out products like GPK Sapphire.