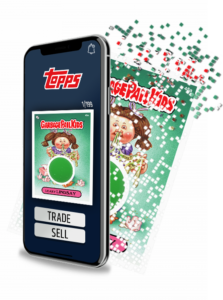 Wax.io announced a partnership with Topps today that will see Topps trading cards come to the Wax Blockchain. The company's GPK website shares the first details of the partnership. The first product to be available on their app will be Garbage Pail Kids to celebrate their 35th anniversary. The company promises other Topps properties such as MLB, Star Wars, and WWE will also appear in the future.
Details such as pricing, release dates, and exact cards we're not released by the company. However, their website says their blockchain technology will allow collectors to buy, sell, and trade instantly with anyone around the world for free. Their app will track all ownership and pricing history for all sales of the cards. One example of a Leaky Lindsay care is given, showing transaction history and sales graphs. Here are some of the bullet points given on the website:
When blockchain technology meets collectibles like Topps trading cards, collectors can:
Trade collectibles instantly, with anyone, anywhere in the world
Trade with ease from a smartphone or computer – for free!
Trade with confidence that every collectible is certified authentic, unique, and can never be altered
View a collectible's full ownership records and trading history
Their website is also offering a contest to win GPK cards to collectors who sign up on their waiting list. This website has the potential to be a very big deal for Topps in the future. It would appear they will use GPKs to test drive the initiative. GPKNews will bring you more details once released by the company.