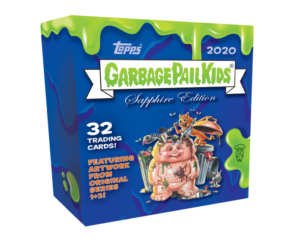 Garbage Pail Kids are moving up in the world. After a very successful year that has seen the popularity of GPK be its highest in over 10 years, Topps is using the brand to introduce non-sport cards to their exclusive club. Today Topps launched a presale for 2020 Garbage Pail Kids Sapphire Edition. The cards were available to purchase today exclusively to Topps 582 Montgomery members. The 582 club is a yearly membership club that Topps first launched in 2018. Memberships are sold out for for the 2020-21 year already. One of the perks of the club is exclusive early access to products. This is the first non-sport product to launch to the club, previous products have focused on sports, mainly baseball.
According to the picture of the box the set contains cards from OS 1 and OS 2. Each box comes with 32 cards. The listing advertises collectors can find the following parallels.
Blue Sapphire: #'d to 99

Green Sapphire: #'d to 50

Orange Sapphire: #'d to 25

Gold Sapphire: #'d to 15

Purple Sapphire: #'d to 10

Red Sapphire: #'d to 5

Padparadscha: #'d 1-of-1
Topps did not show any pictures of the cards, nor reveal a checklist. Members were able to purchase 1 box for $50, plus shipping. The listing claims boxes will ship in 3-5 days. Boxes allotted for 582 members sold out immediately. Many club members complained about being unable to purchase boxes. Secondary prices for boxes have reached 8x-10x in price already. Many times with 582 releases, Topps will release additional boxes to the public in the days following the release to 582 members. It's not known if this will be the case with Sapphire. Collectors should keep their eyes open to Topps.com for a possible public release.