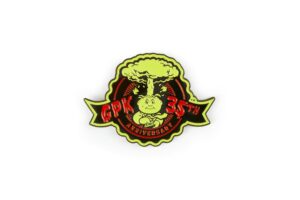 So you thought since this year's San Diego Comic Com was cancelled that there wouldn't by any exclusive Garbage Pail Kids merchandise? Not the case! Some of Topps' licensees will be part of the virtual SDCC @Home Event. The event is scheduled to start at 12:00 PM EST on July 22, 2020. Collectors will have a chance to purchase some of the merchandise that was originally scheduled for the Con. There are 4 different companies planning on offering exclusive licensed Garbage Pail Kids merchandise. Check below to see what will be offered. (So far info is only available for two of the items, this article will be updated as more information is released.)

ToyNK.com will be offering an exclusive Garbage Pail Kids 35th anniversary pin. The pin, licensed by Topps, was designed by noted designer Hydro 74. The pin measures 1.75″ x 1.25″. The company has not released info yet on purchasing, pricing or print run.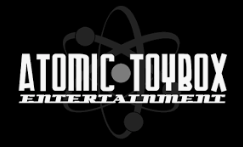 Atomic Toybox once again will be home to a couple of exclusive enamel pins. This time the pins are a mashup of Garbage Pail Kids and Mars Attacks. Both pins feature the same art, with separate color variations. Alien Ian and Outerspace Chase will be available separately and limited to 150. Each pin comes with an exclusive GPK x Mars Attacks promo card. Artwork for the card was done by artist Jason Crosby. The card helps to promote the upcoming Sidekick Lab's Mars Attacks set. Part of their kickstarter campaign includes a special GPK x MA 6 card set. The set can still be preordered, collectors can find more information on the set's Kickstarter Page. Each pin will be available for $12.95. The pins can be purchased from the Atomic Toybox online store. The pins will go on sale on 7/22/20.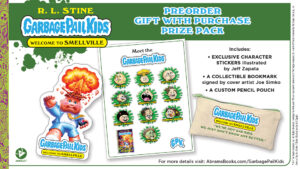 As part of the SDCC @Home festivities, Abrams Books is announcing a special pre-order prize pack for anyone who pre-orders the upcoming Garbage Pail Kids Welcome to Smellville book by R.L. Stine. The prize pack includes exclusive GPK characters illustrated by Jeff Zapata, a collectible bookmark signed by Joe Simko, and a custom pencil pouch. Customers who preorder, can fill out the form at their website, attach proof of pre-order, and the prize pack will be sent their way. The fine print does read "while supplies last". In addition packs are limited to one per person per household. The offer is only available to residents of the US, and people who had already pre-ordered the book are still eligible. The offer ends the day before the book is released on 9/28/20.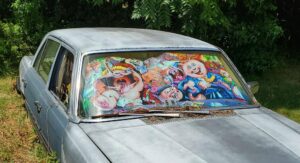 FYE debuted a new Garbage Pail Kids Sunshade as part of their SDCC @Home promotions. The Sunshade features a number of GPK characters that will help keep the sun off your dash. The shade is up for pre-order on FYE's website for $19.99. The Garbage Pail Kids Sunshade is scheduled to launch on 9/2/20.
While not offering exclusive merchandise, some of Topps' other licensees will have prior released products and information about GPK related products during the event.
The OP/USAopoly launched a new store on their website. If you haven't picked up the GPK Monopoly game or the GPK puzzle now is you chance. Free shipping available for orders over $24.
More info to come from other companies over the next few days as Virtual SDCC 2020 gets closer.