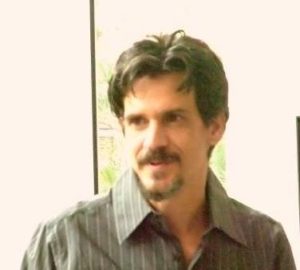 Former Garbage Pail Kids Artist Patrick Glover passed away on July 3, 2017 in New Jersey. Patrick and his brother, Sean, worked as a team during the early releases of the All New Series GPK reboot. The Glovers are responsible for the first insert cards in GPK sets, as they completed the artwork for ANS 1 Silver/Gold Inserts. They also did all the artwork for the Little Stickers, these were the wrap arounds included with each piece of gum during the first printing of ANS 1. In ANS 2 they branched out into final artwork for the base set. They are credited with five base cards (10, 17, 26, 30, and 38), and also one Scratch & Stink insert (S2). They continued to do the artwork for the insert foil sets in ANS 2 & 3. Pat and Sean also teamed up on a number of Wacky Packages cards for Topps around the same time frame.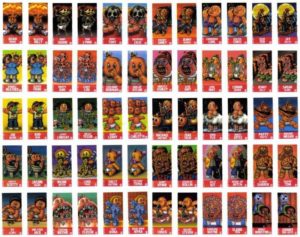 Patrick grew up in the New York area, and graduated from The Copper Union art school in 1987. After working for Topps he focused on a series of paintings based on photos he would take in the rain on the highway. Pat spent time living in North Carolina as well. His artwork has been shown in galleries all around the United States.
Sean was kind enough to share some memories they had of their time working for Topps:
"Pat and I decided that, since I had gone to Ringling School of Art and my major was illustration, that I should be in charge of the rendering of the Garbage Pail Kids in accordance with the new style sheets.  After I gave him the line drawings in ink, since he was a Cooper Union graduate with a concentration in painting, he would scan and colorize the art for production. This seemed to work pretty well, especially when it came to the original artwork that we came up with.  Pat was an excellent painter and had a great sense of color.
I think the one episode that left us shaking our heads and made us laugh, was an idea that we proposed. We had a fat GPK sitting next to an empty dog bowl that had the name "Fido" on it. There was a collar and some fur on the floor in front of him and he was picking his teeth with a small bone. The powers that be at Topps thought that it was "Too Gross". We thought that was histerical!  Here you have a character vomiting into a frying pan or popping zits and this was too gross?!
Pat and I worked together for years in Charlotte, NC. We painted murals and worked for decorators, doing faux finishes and other decorative work. We ran a gallery for young artists to show their work and had a thriving figure drawing group.  
Pat was always homesick for NYC and he eventually moved back.  He settled in Jersey City where he worked and lived until he passed.
Pat and I truly enjoyed working on the GPK series and appreciated the opportunity that John Williams and Topps gave us to be part of such an amazing legacy."
A memorial to celebrate Patrick's life will be held in Charlotte next Wednesday, hosted by the arts community.