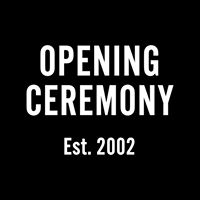 Is the GPK world ready for designer shirts and hoodies? We are about to find out, as designer clothing company Opening Cerremony has begun offering Garbage Pail Kids merchandise. Thanks to GPK collector Michael White for first pointing these out. The company sells online and has stores in New York, Los Angeles, and Tokyo. Launched in 2002 they work with designer brands offering a wide variety of clothing.
They launched what they are calling a line of limited edition t-shirts and hoodies. There are four t-shirts; a blue shirt featuring New Wave Dave, an orchid shirt with Furry Fran, a yellow shirt with Creepy Carol, and a white shirt with a GPK and OC logo on the front and the same three characters along with Art Apart on the back. All the shirts feature different forms of both the Garbage Pail Kids banner and Opening Ceremony logos on either the front or back. The t-shirts are available in S-XL, and are priced at $60 each.
They also launched two hoodies. One black hoodie featuring Tee-Vee Stevie on the back, and an Opening Ceremony logo on the front. The second hoodie is pink and has Art Apart on the front with GPK and OC logos on the back. The hoodies are also available in S-XL, and are priced at $120 each.
All clothing is officially licensed by Topps. The company says as of now this is the only GPK merchandise planned.