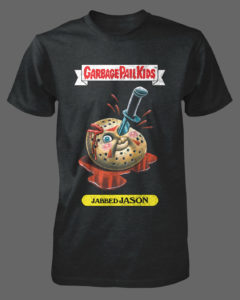 After taking a break from GPK products for a couple of years, earlier this week Fright Rags begun teasing four new Garbage Pail Kids t-shirts. Today Fright Rags shared details with GPKNews on everything they have planned for their upcoming release.
As previously teased, they will be offering four new t-shirts based off of brand new licensed artwork from GPK artist Brent Engstrom. Hallow Jean and Jabbed Jason will be available in Dark Heather, Sick Sid will come in Heather Caribbean Blue, and Lost Roy in Heather Royal Blue. All four shirts will be available in sizes S-3X. Pricing for the shirts will be $27 each.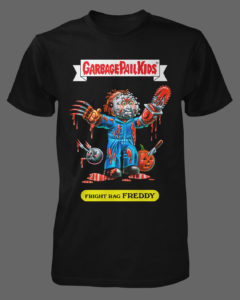 That's not all, Fright Rags will be bringing back a favorite character from the past. Fright-Rag Freddy will be available in a couple of different configurations. The artwork, also done by Brent Engstrom, was not only sold by Fright Rags as a t-shirt, but also appeared in 2014 Series 2 as a bonus card. Fans who missed out the first time will have their chance to purchase new merchandise featuring the character now. Fright Rags will offer a Fright-Rag Freddy – T-Shirt Wax Pack. Limited to 200, the pack will included a Fright-Rag Freddy – Ringer Tee, Enamel Pin, and a 5×7 Trading card. The shirts will be available in Men's sizes S-5X, and Women's XS-2X. The pack will be available for $40. The Fright-Rag Freddy – Ringer Tee will also be available individually for $29. Finally, Fright-Rag Freddy will also be available on socks. Limited to 190 produced, the socks will cost $12.
All the Fright Rags merchandise is set to launch on Wednesday, July 18th. Between Fright Rags, Creepy Co., and the San Diego Comic Con, July is shaping up to be a big month for GPK merchandise.