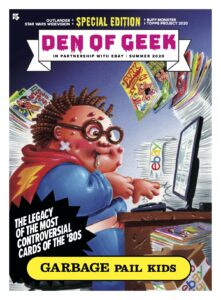 Were you not one of the lucky few to find a Den of Geek magazine in your mailbox this week? Don't fret! You can enter to win one, see details below. Den of Geek prints special edition magazines for cons like SDCC and NYCC, and passes them out at the shows. With no SDCC this year, Den of Geek is giving away 500 copies to collectors. This special edition features Garbage Pail Kids on the cover. Within the magazine is an article on the upcoming GPK x eBay set that will be available in August. The back cover features some Melty Misfits artwork. A great collectible considering cons across the country are being cancelled this year. Den of Geek shared with GPKNews how collectors can win a copy:
How to Get A Physical Copy:
Digital editions are great, but sometimes nothing beats good old-fashioned paper! We're giving away 500 copies (while supplies last). Here's how to win one….
Click here to enter via our official magazine giveaway page!
On our magazine giveaway entry page, you'll need to enter your shipping details — if you're selected as one of the winners, we'll ship a copy of our new magazine directly to you.
Entries will be accepted until Friday, August 7. Winners will be selected at random and then emailed to confirm that they've won. Winners will ​not n​eed to reply to our announcement email to accept their prize — simply kick back and wait for your mag to arrive!