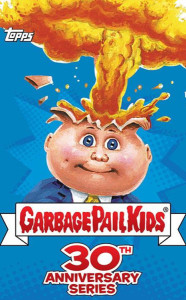 This year Topps is celebrating the 30th anniversary of producing Garbage Pail Kids. They've decided to go big for the special set due to be released 7/8/15. The base set will contain 220 cards! As usual there will be "a" and "b" varieties of each card available making 110 different paintings.
The larger set size allows Topps to have multiple themes this time around. In 2015 Series 1 Topps used a baseball theme. This time there will be 11 different subsets that make up the base set. Categories such as Comic Book Covers, Cutting Room Floor, Garbage Pail Pets, and Garbage Pail Presidents highlight a few of these themes.
Of course a GPK set doesn't stop at just the base set. Topps will include three insert sets; Movie Scenes, Horror Film, and Super Fan Tattoo Stickers. Other popular inserts return for this set including "C" card short prints, Artist Autos, Sketches, and Printing Plates. New inserts for this set include Foreign Legion Stickers. These will be cards done in other languages and inserted only in Hobby packs. These look to be replacing Bonus Cards in boxes this year. Also new are GPK Buyback cards, and Barf Bag Box Loaders….yes Barf Bags.
Base card parallels also return in Black, Silver (Hobby only), Gold, Metallic Red (Collector), Character Back (Collector), Sepia (Collector), and Pink (Collector). This time around the Character backs will come one per pack in Collector's Boxes, while the Pinks will be one per Collector's Box.
One interesting note for this series is how Topps is changing the Collector's Boxes. In previous series Topps guaranteed a hit in each box. The sell sheet makes no mention of this for the 30th set. The only guarantees are the Collector's Box parallels/inserts and a Barf Bag Box Loader. However, Topps is offering quite the number of hits that will only be found in Collector's boxes such as Artist Relics, Medallion Cards, Stamp Relics, Auto Pen Relics, and Duel/Triple Auto cards. Will be interesting to see how often these fall in packs.
Click here to see the Sell Sheet for Topps 30th Anniversary Set.