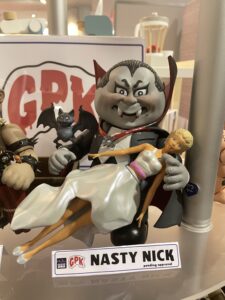 PremiumDNA has unveiled their new line of highly detailed Garbage Pail Kids figures. Their booth at this year's New York Toy Fair is showing off prototypes of their upcoming GPK lines. This is the same company that launched Madballs vs. GPK figures back in early 2022.
Wave 1 of the GPK figures include Nasty Nick, Nat Nerd, Tattoo Lou, and Mean Gene. All figures come with various accessories that can be swapped out, so collectors can make their own displays. Some accessories not pictured include; Nat Nerd having two additional stacks of comics, Mean Gene includes a broken bottle, stray bullets, and camo pants, Nasty Nick includes a soft good cape that can be posed like the card art, and his lady friend includes glasses. Each figure is cross compatible and contain the same articulation as the Madballs vs. GPK line and the accessories can be swapped between them. Sadly, there will not be cards that come with these figures. Pre-orders will begin next Saturday, 10/7/23, on PremiumDNA's website. In addition to the "A" name, there will be limited to /250 "B" names available to order.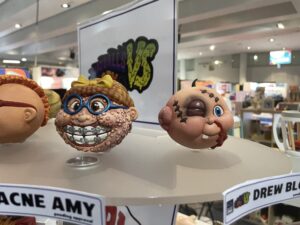 The company is also showing off their upcoming Madballs Vs GPK: Twisted DNA CollectiBALLS line. These highly detailed painted foam balls bring collectors something that closely resembles the original Madballs. Characters on display at their booth include; New Wave Dave, Acne Amy, Drew Blood, Slobulus, Lock Lips, and Dust Brain. The CollectiBALLS line is set to go on preorder in Q1 2024.
No pricing or shipping estimates were available yet from the company. Collectors should be aware the first line of Madballs vs. GPK characters still haven't shipped from the company. The company currently shows a Q4 2023 estimated shipping date. Keep that in mind when placing orders for these new figures.