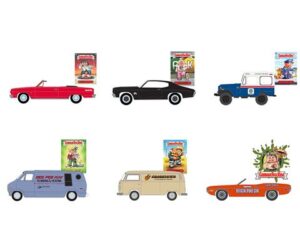 Series 5 isn't out yet, but that isn't stopping Greenlight Collectibles from working on the their next GPK car series. Preorders have begun for Garbage Pail Kids Series 6 die cast cars. There will once again be six cars in the series. GPKWorld was first to report on the upcoming launch. 3000toys.com first listed the series for presale a couple of weeks ago. So far the company has only announced 5 cars, the 6th car that usually features a Greenlight employee turned into a GPK is listed as TBD. Each car will continue to come with an associated trading card. There will once again be the chase for the Green Machine limited parallels. The company also shared mockup images of the cars this week. Here are the five announced cars so far with their card name.
Poppy Fiction – 1964 Chevrolet Chevelle Convertible
Dazed David – 1970 Chevrolet Chevelle
Mail Munch Mitch – 1970 Jeep DJ-5
Overkill Kevin – 1976 Dodge B-100 Van
Boxed Brad – 1979 Volkswagen Type 2 Panel Van
Each car can be preorder for the MSRP of $6.99. This 6th series of die cast GPK cars are set to launch Feb-Mar 2024.