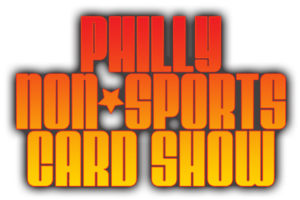 Covid 19 has caused the cancellation of most of the cons and card shows around the country in 2020. Taking a page from SDCC, the Philly Non-Sports Card Show is going virtual in October. Show promoters have scheduled a number of sessions with card industry leaders to take place Oct. 16-18, 2020. The sessions will be available to anyone who purchases a pass. The purchase also comes with two exclusive Philly Non-Sports cards, continuing their industry card series. Passes are $10 for US address, and $15 for international address. (Passes are only available while supplies last.)
The highlight of the show for Garbage Pail Kids collectors will be the Topps presentation, scheduled for for 10/16 at 10:00 AM EST. Ira Friedman and Jessica Kanzer are both scheduled to appear. Friedman is Topps VP of Licensing, and will be able to talk about all the various GPK products. Kanzer is the Brand Manager over GPK, this will be the first time she has be interviewed since taking over the reins of the brand. Long time GPK sketch artist Chenduz will have a session on 10/18 at 10:00 AM EST. Tom Lichtman from Sidekick Publishing and Adam Levine will have a session on 10/17 at 10:00 AM EST to talk about their Marks Attacks card set. See picture below for the complete lineup.
Collectors can signup for the virtual sessions, by going to the Philly Non-Sports website.