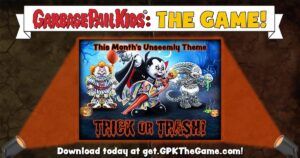 Over the last few months, Garbage Pail Kids The Game has made a comeback. After a slow start and a year of inactivity, Jago Studio has been releasing regular updates and launching events on a monthly basis. The company sent over the press release below to announce the addition of Nasty Nick to the character lineup. Players can finally add this most requested character to their party. Nick is just part of the Trick or Trash event running in the game throughout October. The free to play game is available to download on both iOS and Android devices.
GARBAGE PAIL KIDS® MOBILE GAME WELCOMES FIRST-EVER GPK "NASTY NICK" INTO THE FRAY
80's nostalgia meets mobile gaming – collect, train, and battle original GPK characters
LOS ANGELES — Friday, October 15, 2021— Jago Studios, creator of interactive social entertainment, in partnership with Topps is pleased to announce the addition of the first-ever GPK "Nasty Nick" to Garbage Pail Kids: The Game℠, now available for download in the Apple App Store and the Google Play Store. Boasting the dubious honor of card #1A in the beloved and proudly immature series, the baby-faced vampire joins classic Original Series GPKs such as Adam Bomb, Dead Ted and TeeVee Stevie in the wildly popular mobile game.
Garbage Pail Kids: The Game℠ is a card collecting and strategy role playing game for mobile devices, developed by Jago Studios under license from The Topps Company, Inc., the originator of the Garbage Pail Kids property. Since the launch of the game in 2019, avid players who grew up loving the iconic – and iconoclastic – trading card series have been clamoring to see the "OGPK" added to the game. "1A is a truly significant number to GPK fans – Nasty Nick was the monster who started this whole mess!" said Stuart Drexler, Jago Studios' CEO. Game developers were even able to include Nick's fashion doll "victim" as part of his mobile game attack, which for Drexler – who began his own career creating ads for Barbie™ dolls – felt fiendishly felicitous.
"We couldn't be more excited to bring our favorite undead GPK to life," expresses Ira Friedman, Vice President of Global Licensing at Topps. "Nearly 37 years on from its original launch, affection for the Garbage Pail Kids continues to grow among original fans, as well as with a whole new generation who are discovering the appealing and appalling fun that is GPK."
Garbage Pail Kids: The Game is free-to-play and available for download at get.gpkthegame.com. For more information and to receive updates on the game, visit gpkthegame.com or follow @gpkgame on Twitter, Instagram and Facebook.
ABOUT THE GAME
Garbage Pail Kids™, the mischievous and over-the-top 80's icons, are back and ready to battle! Build a team of your favorite cards with original characters released by Topps in the 1980s and beyond. Fully animated like never before, these wacky kids will fight with everything they've got— lasers, spray paint, dance moves, nuclear weapons, and anything they can spit, spew, or hurl. Collect Your Favorite Cards Adam Bomb, Tee Vee Stevie, and (now the #1 requested character) Nasty Nick are just a few of the characters you remember, however, now they are ready to fight. Pick your favorites to build your strongest crew while balancing the chase of unlocking rare cards as you progress. Learn quirky skills, find bizarre gear, and level up your outrageous team…to VICTORY. Conquer The Arena, Worm Wars, Daily Events and Campaign Stages
Challenge other players and prove your skill in the PVP Arena – Chunderdome: Two players enter, one player heaves! Earn bonus daily rewards and climb the leaderboard to GPK glory. Dive in the dumpster, take out the trash, and come play in the wild and crazy Garbage Pail Kids universe!