Update #2: According to an article on Forbes, there will be 500 boxes of the GPK California Takeover available at the show. This confirms information GPKNews has also heard. In a Tweet Topps said there would be limited boxes available each day of the show.
Update: GPKNews heard back from Topps with details on the set. The set is indeed a 40 card base set, 20 subjects with a/b versions. Collectors can also pull random C Name cards for all 20 subjects as well. In addition, each pack comes with a foil or sketch card. Foil cards come as; Rainbow (not numbered), Blue (/10), Red (/5), and Gold (1/1). A total of 9 artists did sketch cards for the set; Brandhen Snyder (60), Chris Meeks (50), Eric Medina (50), Jasmine Contois (70), David Acevedo (70), Mike Stephens (50), Nik Castaneda (70), Victor Moreno (70), and Chenduz (70). The base card checklist can be found here. Boxes will be available at the Topps Booth at ComplexCon with a price of $100 per box.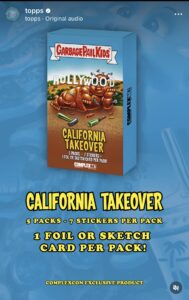 Topps has a long partnership with the annual ComplexCon shows. This year is no exception as today Topps announced Garbage Pail Kids California Takeover ComplexCon set. The set features GPKs with an LA twist. For the first time the ComplexCon set will only be available at the Topps booth (A10) at this weekend's show, it doesn't appear online sales are planned. There aren't a lot of details available yet on the set. Topps released information earlier today via their Instagram account. The set will be sold in 5 pack boxes. Each box contains five 8-card packs. Each pack has 7 base cards and either a foil or sketch card. It's unclear what the exact structure of the set is. Artwork for the set was done by Brent Engstrom, David Gross, Joe Simko, Joe McWilliams, and Neil Camera. Each artist did 4 pieces for the set. If the set contains a/b versions that would make the base set 40 cards total. It's also not clear how many different foil cards or what they are numbered to. There is no card checklist or sketch artist checklist available yet. Topps does say supplies of the set will be limited. There is also no information on the price of the boxes. GPKNews has reached out to Topps to try to get more information on the set. If you attend the show please reach out to GPKNews with pictures and info! The boxes will be available at the ComplexCon this weekend, 11/19-11/20.