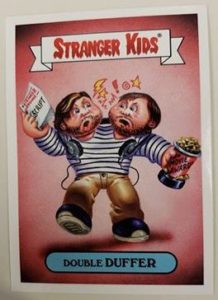 Over a week after the New York Comic Con, and there is still some GPK news being made. Collectors who purchased the 40 card Garbage Pail Kids Stranger Things set were able to choose one show exclusive promo card at Topps' booth. There were four promo cards to choose from. Three of the cards were upside down characters; #1 Byers Beware, #2 Wrong Way Wheeler, and #4 Denny Gorged On. A Stranger Things poster collage made up card #3. Today GPK collector Ray Muccianti posted yet another Stranger Kids promo card on Facebook. Also labeled #2 on the back, the card is Double Duffer, its a take off the OS 2 gag Double Heather.
What's the story behind this card? I was able to confirm with artist Joe Simko the card was painted for the set originally. Topps liked the card and was planning on including it in the set. However, Topps was not able to secure licensing approvals prior to NYCC. Unlike most GPK sets, this set was part of a license agreement with Netflix, therefore it appears agreements with Netflix and the actors were necessary.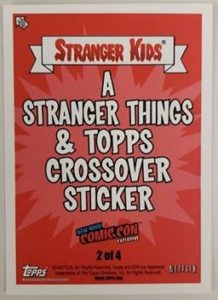 So how did the card get out? That explanation is less clear. By being labeled as promo card #2, it would appear Topps had the cards printed in hopes they could obtain the approvals prior to NYCC. They also had Wrong Way Wheeler printed, so there was a backup plan if they couldn't get the approvals. Ray obtained his early on the first day of NYCC from another party that purchased sets at Topps' booth. GeePeeKay also received and posted this photo of the bonus cards from Topps booth from early that Thursday. You can clearly see a stack of Double Duffer promos in the photo. However other collectors that attended NYCC Thursday morning reported when they were there, that it was the Wheeler card that was available, and not the Duffer.

The question becomes how many of these cards made it out? So far Ray's is the only copy to surface. I was not able to find any examples that sold on ebay during the show. I've reached out to Topps for comment, if they reply this article will be updated.