As Topps is set to release 2016 Garbage Pail Kids American as Apple Pie In Your Face set next week, new details are coming out on some surprises they have in store. As we mentioned in an article last week, Retail Blaster boxes will include 3 Gross Bears cards per box. GPKworld.com broke news on their Facebook page that those Gross Bears cards will be based off the 1985 Topps Gross Bears Button set. GPK World also mentioned those cards will be found in Walmart Blaster boxes. GPK World also reported that Target Blaster boxes will contain 3 Bathroom Buddies cards, based off a 90's GPK spinoff set.
Finally GPK World offered up a sneak peak at the wrapper art for this set.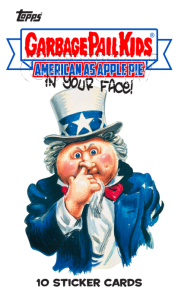 The next release is set for Jan. 20, however retail will often hit stores early. Keep your eyes open this weekend for these packs.