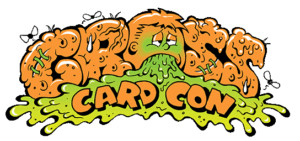 Excitement is building as artists and attendees are getting ready for the next Gross Card Con event at the ToyXpo show in Santa Clara. After two successful Gross Card Con (GCC) events the last few years, organizers of the Las Vegas Toy Con have decided to expand the GCC concept. Much like the Vegas Toy Con, the ToyXpo caters mainly to toy and pop culture fans. GCC will once again be an event inside the ToyXpo. While the GCC won't be as large as the Vegas show or have as many GPK specific events, your favorite GPK artists will be on hand offering their great art. The show is scheduled to take place Aug 24-26 at the Santa Clara Convention Center. The show will be open Friday 1:00-9:00, Saturday 10:00 – 8:00, and Sunday 10:00 – 4:00.
Show organizers are planning two GPK events that show goers won't want to miss. Friday at 6:00 PM in the Great America Ball Room K will be the Q & A artist panel. Many of the artists will be on hand to answer all the GPK fan's questions. Also Saturday night at 8:00 PM in the Convention Center Theater will be a special screening of 30 Years of Garbage movie. All show ticket holders are invited to attend to see a private showing of the excellent GPK documentary that was released in 2016. If you haven't seen the move yet, or want to relive it with a bunch of GPK fans, now in your chance!
There will be nine GPK artists attending the show. All previously attended the last GCC show in Vegas this past February. Scheduled to attend are Tom Bunk, Joe Simko, Brent Engstrom, David Gross, Jeff Zapata, Layron DeJarnette, Michael Barnard, Joe McWilliams, and Chad Scheres. Here's a sampling of what each artist will have to offer.
Original Series artist Tom Bunk is back at GCC and will have a few autographed postcard sized GPKs available to purchase. There will also be a limited edition handmade Italian screen print available.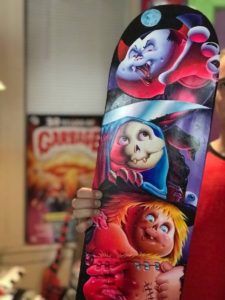 30 Years of Garbage Co-Director and current GPK artist Joe Simko will be attending with some brand new items. He will have some newly painted GPK themed skateboard decks available for the first time at the show. He will also be selling 30 Years of Garbage DVDs (director's cut), Original GPK artwork from past sets, sketch cards, Cereal Killers and Stupid Heroes trading card sets, and The Sweet Rot books. He will also be taking commissions for blank sketch cards and blank GPK comic covers.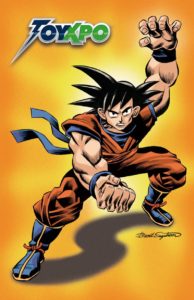 Current GPK artist Brent Engstrom has done a special Dragonball Z Goku print. He will have prints available for sale, and will be doing a signing with the voice actor for the character, Sean Schemmel. He will also have some other original prints and GPK final artwork available for purchase.
David Gross will once again have his popular Rejected GPK books available for purchase. David will do a pencil sketch of the character of your choice on the inside cover of each book! He will also have some prints, his own sketch cards, and original roughs and paintings.
Layron DeJarnette will once again have many of his original final paintings for GPK and Mars Attacks along with sketch cards, prints, and trading cards.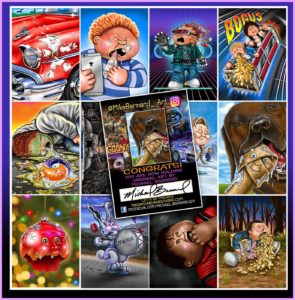 Perhaps the artist's work you will see the most around the ToyXpo this year in Michael Barnard's. Michael put in a lot of work for this years show he did over 40 banners that will be behind the show guests. He did a wrap for the Hot Wheels vending machine and toy packaging for Funko and Lego exclusives. Michael also did poster art for Stranger Things actor Noah Schnapp. There will be a special signing with both Noah and Michael during the show. His art will also be featured in the show's VIP passes and the officials show t-shirt. That's just his non-GPK art! Once again Michael will have many 11X17 and 8X10 original prints available, both GPK and pop culture prints will be available. He is also adding onto his card set, and will have the entire set available for purchase at the show. GPK themed buttons and golf discs will also be available. If you are a fan of Barnard's work, this is the show for you.
Smokin Joe McWilliams also did some work for the ToyXpo. The official show poster, featuring the bat mobile, was done by Smokin Joe. He will have some original prints, sketch cards, and an assortment of GPK and Wacky Packages original paintings. He also will be offering his own Creepy Containers and Monsters Go Pop! stickers.
Artist Chard Scheres will once again be featuring many of his original monster artwork. He will have some of his Carbonite Finks figures (limited to 30) available. He also will showcase new prints and his Septic Cola embroidered patch.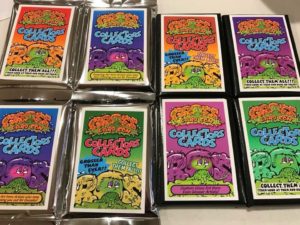 Perhaps the most anticipated part of the show, is the exclusive show card set. Each artist attending the show completed two cards for the set. The 18 card set is broken down into two different subsets. Each artist has one card in the Skateboard subset, and the 80's themed subset. There will also be a special puzzle available on the card backs, with artwork done by Michael Barnard. Smokin Joe McWIlliams also created and printed the stickers for the set wrappers. See pictures below for most of the artwork featured in the set. The show set will be offered in two different versions. The first version will be a Glossy version of the set. There will be 100 sets available at the show with a 1:5 chance of pulling a redemption for artist sketch cards, show t-shirts, or merchandise from GPK & Wacky Warehouse. Can't make the show? GPK & Wacky Warehouse has you covered. An additional 100 Glossy sets, without the show redemptions, will be available for internet sale after the show. Each artist will also have a number of their cards available to autograph and sell at their table. A second Canvas version of the set will also be available. With a total print run of 100 this set will be a little tougher to obtain for collectors. Just over half of the sets are wrapped in a gold wrapper and given to show organizers for promotional items. This leaves approximately 40 canvas sets, wrapped in a black wrapper, available from GPK & Wacky Warehouse for sale at the show. Each Glossy and Canvas complete set will be available at the show for $40, or buy both for $70. Be sure to see Clint at the GPK & Wacky Warehouse booth for show sets along with unopened boxes, complete sets, and all the GPK cards you can handle.
Tickets are available on ToyXpo's website or on Groupon. As we've discussed before, ticket options are a little different for Super VIP purchasers. Gone are the theme specific Super VIP badges. There is now only one Super VIP badge that included a number of extras once again. Sadly none are GPK specific this time. The Super VIP badge also dow not include hotel for the show, and costs $350. The regular VIP option remains similar to past shows, and is available for $150. General admission badges are also available for the entire show or specific days.