Update 7/16/18 – Topps revealed via Facebook today that the three prints will now be available in 8 x 10 size, and come with three different backgrounds. White ($15), Transparent ($20), and Foil ($25). This info differs with what Atomic Toybox released previously.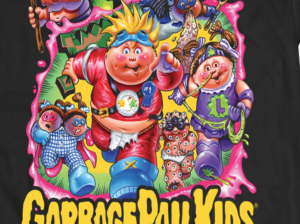 Topps and Garbage Pails Kids have a long history of making an appearence at the country's largest Comic Con. This year will be no exception. Thanks to GPK collector srezvan for first pointing out this years exclusives. Topps, Creepy Co., and Atomic Toybox are teaming up to offer a number of exclusive GPK items. Atomic Toybox will once again be the booth (#3921) where these GPK items will be for sale. Here's what will be offered.
Topps will have three Jumbo Stock Card Art Prints. These poster sized cards measure 11 x 14. The officially licensed art was done by GPK artist Joe Simko. Each card will be produced in limited quantities for the show. Exact production numbers have not been revealed. Each jumbo card will be available for $20.
The art for one of the cards will also be offered as a t-shirt. The shirt is licensed by Topps and produced by Creepy Co. Also available in limited quantities, the shirt will sell for $35.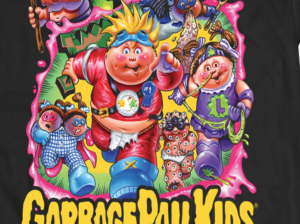 Finally, Creepy Co. has produced an enamel pin of Nat Nerd along with a GPK lanyard. The pair will sell for $15.
This year's San Diego Comic Con is set to take place from July 19-22 at the San Diego Convention Center.