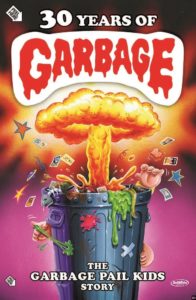 Just a couple of weeks ago the producers behind the 30 Years of Garbage documentry announced they had reached a distribution deal with Indican Pictures. Indican has shared more details of their plans for the film's release including showings in movie theaters. That's right, 30 Years of Garbage will launch in limited theaters around the country beginning this Friday, Aug. 18th. While no listings are available, Indican told GPKNews the movie would show in cities like Columbus, OH, Buffalo, NY, and Los Angeles, CA. The showings will debut Aug. 18 in select theaters and expand to additional theaters through Sept. 20. The theater release is very small with most theaters doing only one night showings.
On Sept. 20th the film will launch nationally via DVD and On Demand. Indican said the film will be available on most streaming services at launch with the exception of Netflix. Netflix customers will have to wait until early 2018 to get their GPK fix. Indican has also released a new official trailer of the movie that you can see below.
OFFICAL Garbage Pail Kids Trailer from Indican Pictures on Vimeo.