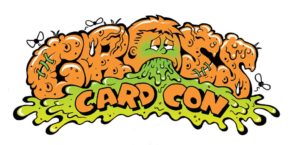 The Las Vegas Toy Con has announced that within their next show will be Gross Card Con (GCC). This will be the second such convention focused on Garbage Pail Kids in Las Vegas. The first, GPK-Con, was held last Aug. as part of the Super Toy Con event. The event will take place at the Circus Circus hotel on the Las Vegas strip on Feb. 23-25, 2018.
Planning is currently underway for GPK related events and artists that will be attending. The show has not officially announced any details as of yet. An event similar to last time is expected with more artists, promo cards created by the artists attending the event, and much more. Be sure to check out the Las Vegas Toy Con website for more information, or GPKNews will being you additional details once available.
Check out our review of last years show here!