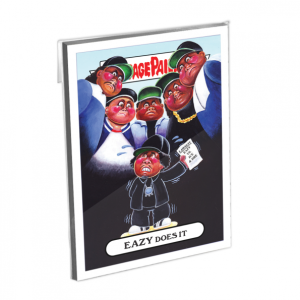 Topps today announced the print run for their Garbage Pail Kids Hall of Lame set based off of this year's Rock and Roll Hall of Fame inductees. The set went on sale 4/8 and was set to be removed after the Rock and Roll HOF ceremony aired on HBO on 4/30. Topps decided to keep the sets up until, 5/3. Despite being on sale for almost 4 weeks the Hall of Lame set was the lowest selling set of the recently offered online exclusive American As Apple Pie sets. Here are the print runs as announced on Topps Blog.
Tricked Rick/Cheap Carlos 219
Crazy Kid/Rock the Boat 192
Eazy Does It/Errant Eric 191
Ice'd Cube/Cold Cube 191
Ear Doctor Dre/N.W. Andre 190
Duplicative Dan/Poser Patrick 187
Chicago Away!/On the Lamm 187
Dunked Deep/Pyro Purple 186
Kudos Kendrick/Lauded Lamar 185
Struck Steve/Mangled Miller 185
Only one card cracked 200, with the lowest at 185. Historically the entertainment based online sets have sold less than the presidential candidates set. The Hall of Lame kids set a new low sales mark for online exclusives. Topps has promised to continue online exclusive sets especially with the Presidential Candidates as the election draws closer.